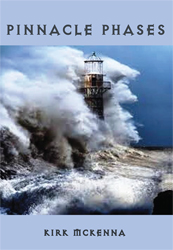 by Kirk McKenna
This book is a collection of writings, rhymes, poems and verse that the author wrote over many years. They are not in any particular order or format, but arose out of my life as it followed its own order.
Some say this book shows a darker side of life: loss, mortality, anger, and raw emotions, or some may thing the book weird or dangerous. In writing about deeply felt losses, the author questions his own mortality, lays his soul laid bare, his emotions sometimes raw and ardent.
In person, Kirk McKenna is a nice and normal guy, passionate about doing the right things for family, in relationships and committed to this country, its freedoms and good values.
These writings can inspire confidence in readers to write about their reactions to writings and poetry. The author seeks feedback. Fear not to write. A man who expects nothing cannot be disappointed.
This author writes for himself, not for the critics, not for fame, fortune or prizes. If readers find this book helpful, or enlightening, or surprising or even offensive, no matter, as is this not the character of life?
Living is writing, friends and relationships. At the same time, it is a small part of the life lived by the author, who wishes the best to readers, friends and family..
---
978-0-Paperback 5½x8″ 78 pages, ISBN 978-0-88970-188-5 $12.95
---
Ebooks: You can get "Pinnacle Phases by Kirk McKenna" in three formats (all priced at $9.99 or less):
Kindle (Mobi) -click to go to Amazon order page: mobi
Epub (for Apple Ipad, Android, Kobo, Nook, Sony readers, Adobe Digital editions…

PDF (various devices including PC and Mac). Click below to order from Commoners