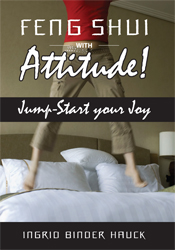 by Ingrid Binder Hauck.
Feng Shui has the power to change your home and life, says the author of a new book, Feng Shui With Attitude, Jump-Start Your Joy.
This is Environ-Mental Feng Shui, or the ultimate interior design, says Ingrid Binder Hauck. "Not only does Feng Shui make your house look amazing, but circumstances start to change," she says. "The number of times that a client has said: 'Never in my wildest dreams would I have thought this would happen to me,' is amazing. Often when a client starts Feng Shui on their home, their whole energy changes." Feng Shui has radically changed her life. The former senior public servant travelled widely, working all of the time. Then in 2003 she gave it up to pursue her love of buildings and the energy of houses. She focused on understanding Feng Shui. "I now have a lot of freedom and control."
Her book explains the basics of Feng Shui and includes an energy map, which makes it easy to apply the principles to your home. At a basic level, it's as simple as putting the energy map over a floor plan of your home to find out what parts correspond to different areas of your life. Is money a problem? The wealth isn't flowing in your life quite as you'd hoped? Well, turn your attention to the abundance, prosperity and wealth area of your home.
"Like attracts like is Feng Shui's basic principle. Whatever feeling the wealth energy zone evokes for you is likely to be the same kind of wealth energy that you are attracting into your life," writes Hauck. Red, green and purple are the colours that attract wealth, so Hauck advises you put these colours in the correct spot, by painting a wall or bringing in art or furniture in these colours. There is a chapter for each area of life: wealth, family, reputation and fame, marriage, creative offspring, helpful people and travel, knowledge and spirituality, career and life purpose. For each section Hauck offers practical home solutions and anecdotes from people who have made changes and seen results.
213 pp illustrated, with index & bibliographical reference ISBN: 9780981023106
---
---
Ebook: You can get "Feng Shui with Attitude" in three e-book formats (ISBN 978-0-88970-070-0 each $9.99):
Kindle (Mobi) -click to go to Amazon order page: mobi
Epub (for Apple Ipad, Android, Kobo, Nook, Sony readers, Adobe Digital editions…

PDF (various devices including PC and Mac). Click below to order from Commoners