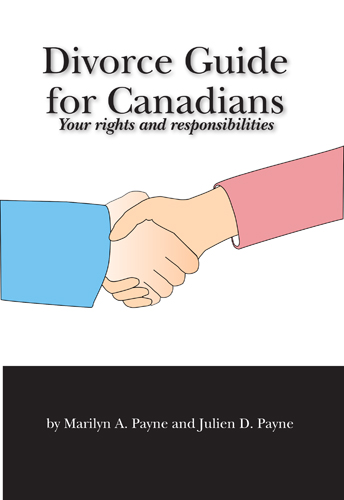 Divorce Guide for Canadians: Your rights and responsibilities
by Julien D. Payne and Marilyn A. Payne
This book is a guide to the divorce process for ordinary Canadians. It explains the processes, crises, costs, options, legal climate, nonadversarial options as well as legal representation considerations. Custody, access, support, parenting, relocation, effects on children and much more are covered in this concise book, by recognized experts in the field.
Julien Payne is a prolific author, having written 43 books, 125 articles, and 45 major research proposals on Canadian family law. He has also presented 160 keynote national and international addresses to academicians, practising lawyers, and judges. Since his mandatory retirement from academe, Dr. Payne and his wife, Marilyn, have continued to update their books on Canadian Family Law and on Child Support Guidelines In Canada which are published by Irwin Law Inc.
His writings have been cited on numerous occasions, including 35 times in six landmark decisions of the Supreme Court of Canada. He has pioneered family mediation in Canada and has been called the architect of Unified Family Courts and no-fault divorce in Canada. His major contributions to substantive family law reform in Canada began in 1966 and continue to the present day. Over a span of 45 years, he has produced groundbreaking research on no-fault divorce, spousal support, child support guidelines and matrimonial property rights and obligations. Many of the fundamental principles underlying current federal and provincial family law in Canada can be traced to commissioned research that he has undertaken on behalf of federal and provincial government departments and law reform agencies. His many and diverse contributions to substantive and procedural aspects of family law and to family dispute resolution reflect the combined efforts of a scholar and activist who has melded theory and practice for the benefit of the community at large as well as the legal community in Canada and elsewhere. His lifelong contributions were recognized in his appointment to the Order of Canada in 2004.
Marilyn Payne is an experienced author and the founding editor of the looseleaf service, Payne's Divorce and Family Law Digests, 1980-1992. She is the co-author of Dealing With Divorce, McGraw-Hill Ryerson Limited, 1991; Dealing With Family Law, McGraw- Hill Ryerson Limited, 1993; The Canadian Divorce Decisions Workbook, McGraw-Hill Ryerson Limited 1994; Canadian Family Law, 5th edition, Irwin Law, 2013 and of the forthcoming edition of Child Support Guidelines in Canada, 2015, Irwin Law.
---
Contents
1. Dynamics of Marriage Breakdown and Divorce
The Three Crises of Marriage Breakdown
The Emotional Crisis
The Economic Crisis
The Parenting Crisis
Concluding Observations
2. The Costs of Divorce
Independent Legal Representation
Hourly Rates
Retainers
Incidental Expenses Or Disbursements
Uncontested Divorces
Contested Divorces
Challenging Your Lawyer's Bill
Who pays the bill? You do!
3. The Legal Dissolution of Marriage
Which Court?
Which Province?
Grounds For Divorce
Marriage Breakdown as Sole Criterion for Divorce
Marriage Breakdown – Separation
Marriage Breakdown – Adultery
Marriage Breakdown – Cruelty
Bars To Divorce
Collusion
Connivance
Condonation
Child Support Arrangements
Conscientious Objections To Divorce
Effective Date Of Divorce; Right To Remarry
National Effect Of Divorce
Religious Annulments Or Divorces
Foreign Divorces
4. Reconciliation; Negotiation; Mediation; Arbitration
Reconciliation
Mediation
Nature of Mediation
Approaches to Mediation
Reasons for Mediation
The Evolution of Private Mediation
Arbitration
Advantages and Disadvantages of Arbitration
Court Annexed Arbitration
Evaluation of Arbitration
Med.Arb
Parenting Coordination
Concluding Observations
Conclusions
5. Interim or Temporary Court Orders
General Observations
Non-Cohabitation Orders
Practicability of Orders
Affordability
Alternatives
Agreement
Violence
Best interests of children
Date and manner of acquisition
Convenience
Restraining Orders
Criminal Charges
6. Spousal Support
Who may apply?
Lump Sum and Periodic Spousal Support
Fixed Term Orders; Review Orders; Conditional Orders
Determining Spousal Support under the Divorce Act
Spousal Conduct: Its Effect on Trials and Settlements
A Deal is a Deal
The Spousal Support Advisory Guidelines
a) General Introduction
b) Amount and Duration of Spousal Support Obligations
c) The Nature of the Guidelines
d) The Applicability of the Guidelines
e) Two Basic Formulas . Marriages without and with Dependent Children
f) Floors and Ceilings.
g) Restructuring: Trade-Offs between Amount and Duration
h) Exceptions.
i) The Without Child Support Formula
j) The Basic With Child Support Formula
k) Duration under the Basic Formula
l) Modifications and Adjustments to Basic With Child Support Formula
m) Crossover between Formulas
n) Narrowing the Range
o) General Observations
Variation and Discharge of Spousal Support Orders
Split Variation Proceedings
Enforcement of Spousal Support
7. Child Support
Amount of Child Support
Determination of Income
Eligibility and Duration of Child support
A. Children Under the Age of Majority
B. Children Over the Age of Majority
C. Stepparental Child Support
D. Split and Shared Custody
E. Incomes Over $150,000
F. Undue Hardship
G. Special and extraordinary Expenses
H. Retroactive Child Support Orders
Periodic and Lump Sum Orders
Enforcement
Variation or Rescission of Child Support Orders
8. Parenting After Divorce
The Emotional Crisis for Children of Divorce
Meaning of Custody and Access
Which Court?
National Effect of Order
Who Can Apply?
Best Interests of the Child
Past Conduct
Interim Custody and Access
Joint Custody
Parallel Parenting
Conditional Custody Orders
Relocation of the children
Access Orders: Terms and Conditions
The Child's Voice in Divorce Proceedings.
Enforcement of Custody and Access Orders
Variation and Discharge of Custody Orders
Counselling, Mediation, Assessments
Resolving the Parenting Crisis
Parenting submission to government
9. Frequently Asked Questions
---

Quality Paperback , 5½×8½" 110 pg, Publication date: March 2015, ISBN 978-0-88970-200-6: $16.95
---
Ebook: You can get "Divorce Guide for Canadians" in three e-book formats (ISBN 978-0-88970-201-1 each $9.99):
Kindle (Mobi) -click to go to Amazon order page: mobi
Epub (for Apple Ipad, Android, Kobo, Nook, Sony readers, Adobe Digital editions…

PDF (various devices including PC and Mac). Click below to order from Commoners