painting and sculpture by Herman Falke exploring themes of Christianity, old testament, new testament, Africa, and reinventions of classic Quebec art and painting.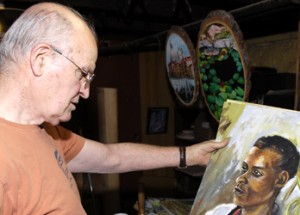 Herman Falke joined the S.C. J. in 1948, and the Sacred Heart Fathers, at age 20. He is a life member of the Sculptors Society of Canada, and for eight years was treasurer. He taught Art and English in high schools for 35 years.
Author of five art books, and co-author of four more in Dutch, this is his ninth book.
He has travelled widely in Africa, Asia, and Western Europe. Since 1992 Father Falke has been pastor of St. Brigid's & St. John's in the Ottawa-Osgoode area.
"My art has been the natural overflow of enjoying my 35 years of art teaching. It has been primarily motivated by a desire to bring religion, and particularly Jesus Christ, to an understandable level through a realistic style."
Sculptors Society of Canada Gallery, Toronto

"Sculpture Inspired by 6 Years Teaching in Africa" Ufundi Gallery, Ottawa
Waseda Gallery, Baileys Harbor, WI, USA
Quality Paperback, 7×10″ 162 pp, 200+ colour plates, 2010 ISBN: 978-088970-135-9
book:
---
Ebook: You can get "PS There's More by Herman Falke" in pdf e-book format (ISBN 978-0-88970-192-2 , $9.99):
PDF (various devices including PC and Mac). Click below to order from Commoners