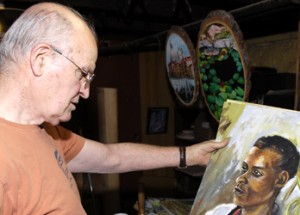 Herman Falke joined the S.C. J. in 1948, and the Sacred Heart Fathers, at age 20. He is a life member of the Sculptors Society of Canada, and for eight years was treasurer. He taught Art and English in high schools for 35 years.
Author of five art books, and co-author of four more in Dutch, this is his ninth book.
He has travelled widely in Africa, Asia, and Western Europe. Since 1992 Father Falke has been pastor of St. Brigid's & St. John's in the Ottawa-Osgoode area. He is currently in Europe.
"My art has been the natural overflow of enjoying my 35 years of art teaching. It has been primarily motivated by a desire to bring religion, and particularly Jesus Christ, to an understandable level through a realistic style."
Herman's Exhibitions:
Sculptors Society of Canada Gallery, Toronto

"Sculpture Inspired by 6 Years Teaching in Africa" Ufundi Gallery, Ottawa
Waseda Gallery, Baileys Harbor, WI, USA
Born in the Netherlands in 1928, I decided early in life to go for the priesthood in religious life. My religious superiors proposed that I should finish my studies in Canada and prepare for a teaching career there. I gradually branched off into art teaching, and in 1964 I graduated from the Ontario College of Art as an Art Specialist. In l966 I was accepted by CUSO to teach painting in a leading Collegiate in Uganda. Immersion in this African milieu changed my Western way of evaluating and creatively recording life. It taught me to be open to other cultures and not simply stampede in with preconceived Western ideas.
The school was located near the equator in a rainforest belt on the shore of Lake Victoria. As a result, another hobby of mine, collecting butterflies, blossomed into a major absorption of interest. Collecting insects day after day, season after season, enabled me to send and sell thousands of butterflies and beetles to collectors all over the Western world, and to enlarge the collection of the Entomology Research Institute at the Central Experimental Farm in Ottawa, Canada with over 25.000 insects. I became an expert in this field and discovered seven new species, namely six flies and one long-horned beetle.
Chaos and bloodshed under dictator Idi Amin forced me in 1974 to return to Canada and to settle in a similar position of artist-teacher-pastor in the Ottawa area. While teaching fulltime for the next 15 years, the growing shortage of priests compelled me to take on parishes as well. In the meantime, a growing passion for sculpture, especially to capture the humanness in biblical stories, has kept me creative even in my late seventies, and even though I am still taking care of two rural parishes. Art, especially sculpture, has become my best lasting tool to make religion more intelligible for literally thousands in schools, churches, and homes.