Gilles Paquet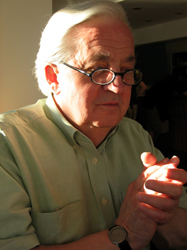 Gilles Paquet has published a large number of books and scholarly articles on governance. He has been Dean of the Faculty of Graduate Studies and Research at Carleton University and Dean of the School of Management at the University of Ottawa. In parallel with his academic career, he has been a regular commentator on public affairs in the TV, radio and print media. Currently, he is Professor Emeritus, associated with the Centre on Governance and the Graduate School of Public and International Affairs at the University of Ottawa. He is a senior partner in Invenire and is also editor in chief of  www.optimumonline.ca, a publication specializing in governance issues..
About the ideas in Gilles' book...
Scheming Virtuously is an invitation to subversion, but also a somewhat personal account of the displacement of the dominant governing regime (Big-G centralized government) by small-g collaborative governance, in a world where power, resources and information are widely distributed. In this new world, the citizen's burden of office is clear: to be a producer of governance. Scheming virtuously is the order of the day – active engagement, imaginative problem-reframing, astute organizational design, and effective action within the bounds of the appreciative systems in good currency and beyond.
Quality Paperback, Published in 2009, 6x9" 300 pp
ISBN: 978-0-88970-131-1 $Can 27.95