To order click ebook or as Paperback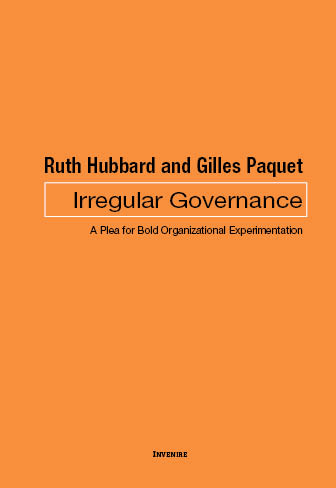 Irregular Governance: A Plea for Bold Organizational Experimentation
 by Ruth Hubbard and Gilles Paquet 
The eighth book in the Collaborative Metagovernance series is an irreverent challenge to administrative conservatorship, and a case for bold organizational experimentation. It makes the case for effective new actors, new structural forms and new social technologies, while showing the perils of ill-conceived contraptions like super-bureaucracies, single-purpose agencies and failure to pay due attention to good management.
This series of books is designed to define cumulatively the contours of collaborative decentred metagovernance. At this time, there is still no canonical version of this paradigm: it is en émergence. This series intends to be one of many 'construction sites' to experiment with various dimensions of an effective and practical version of this new approach.
Metagovernance is the art of combining different forms or styles of governance, experimented with in the private, public and social sectors, to ensure effective coordination when power, resources and information are widely distributed, and the governing is of necessity decentred and collaborative.
The series invites conceptual and practical contributions focused on different issue domains, policy fields, causes célèbres, functional processes, etc. to the extent that they contribute to sharpening the new apparatus associated with collaborative decentred metagovernance.
In the last few decades, there has been a need felt for a more sophisticated understanding of the governing of the private, public and social sectors: for less compartmentalization among sectors that have much in common; and for new conceptual tools to suggest new relevant questions and new ways to carry out the business of governing, by creatively recombining the tools of governance that have proven successful in all these sectors. These efforts have generated experiments that have been sufficiently rich and wide-ranging in the various laboratories to warrant efforts to pull together what we know at this stage.
Interested parties are invited to join the Chautauqua.
Ruth Hubbard is Senior Research Fellow at the Centre on Governance of the University of Ottawa. She served for more than a decade as a federal deputy minister in the Government of Canada.
Gilles Paquet is Professor Emeritus at the Telfer School of Management, a Senior Research Fellow at the Centre on Governance of the University of Ottawa, and Editor in Chief of www.optimumonline.ca, an electronic journal on public governance and management that reaches some 10,000 subscribers. For more information, visit his website www.gouvernance.ca.
---
Contents
Introduction: Beyond Conservatorship
Chapter 1 Ombuds as Producers of Governance: Initiative
Chapter 2 Superbureaucrats as enfants du siècle: Peril I
PART II New Structural Forms
Chapter 3 P3 and the 'Porcupine' Problem: Initiative II
Chapter 4 Single-purpose Entities in a Multiplex World: Peril II
PART III New Social Technologies
Chapter 5 Innovation as Redesign: Initiative III
Chapter 6 The Management Vacuum: Peril III
Conclusion: The Case for Irreverence and Experimentation
---
Quality Paperback , 5½×8½" 185 pg, Publication date: February 2015, ISBN 978-1-927465-22-6: $16.95
click button to put in shopping bag:
---
Ebook: You can get "Irregular Governance" in three e-book formats (ISBN 978-1-927465-23-3 each $9.99):
Kindle (Mobi) -click to go to Amazon order page: mobi
Epub (for Apple Ipad, Android, Kobo, Nook, Sony readers, Adobe Digital editions…

PDF (various devices including PC and Mac). Click below to order from Commoners